Celebrating International Women's Day – Women and Girls in STEM
#4wrd #paneldiscussion #Women&GirlsinSTEM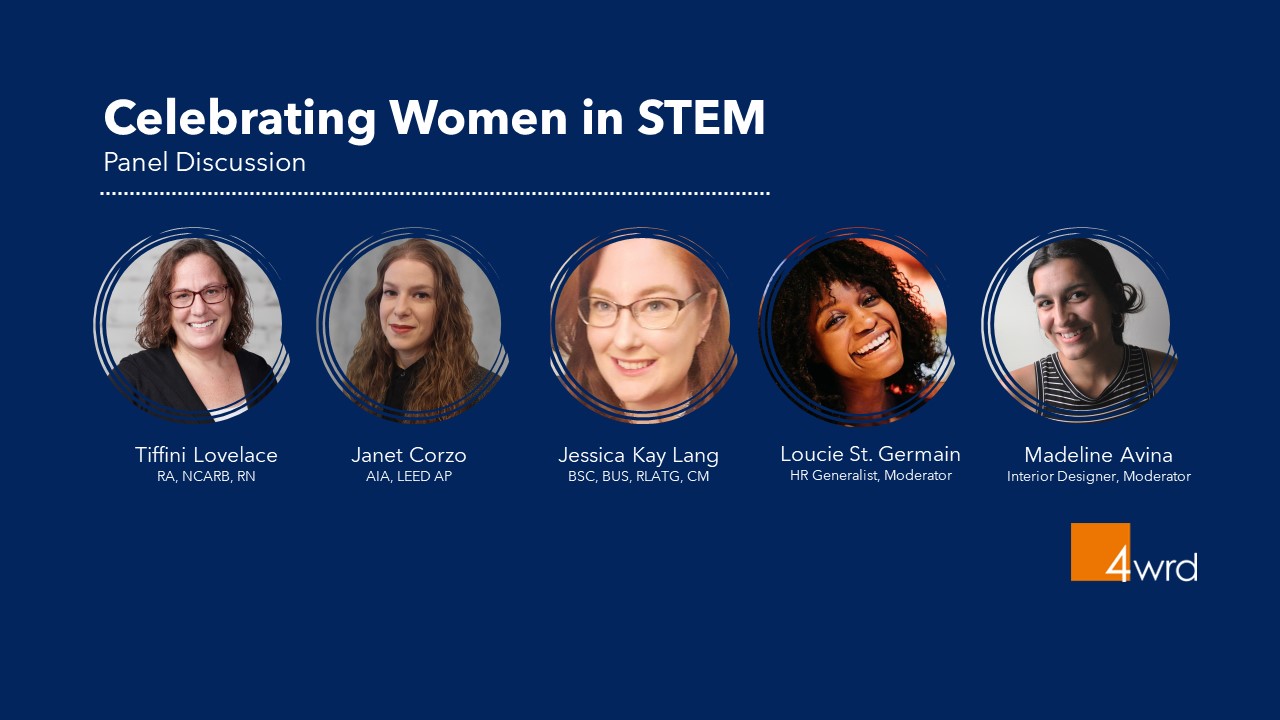 As a precursor to International Women's Day, 4wrd, our Diversity, Equity, and Inclusion initiative, recently hosted a panel discussion celebrating International Day of Women and Girls in STEM. The panelists included leaders from our Health Science + Technology team including Associate Partner Tiffini Lovelace, RA, NCARB, RN; Senior Associate Janet Corzo, AIA, LEED AP; and Consultant Jessica Kay Lang, Sr. Research Specialist at Harvard T.H. Chan School of Public Health.
Moderators Loucie St. Germaine and Madeline Avina posed a series of questions including:
1. With your experience, how would you guide and mentor an unrepresented designer? What would you do to make them feel uplifted as your mentee and how would you introduce them to this field?
2. How would you incorporate cultural differences while working with a client? How should the firm approach this?
3. As a woman is the STEM Industry, what is an obstacle you've faced, that you hope women in the future don't have to face?
4. How should we support Women in STEM?
The conversation was lively and inspiring. It gave our staff a glimpse into a sector of architecture that requires focus, determination, and curiosity. We learned why they chose this field, the obstacles they worked to overcome, and the opportunities they create to mentor and support future generations of women in STEM.
Notable Quotes from our Panelists:
"I think the best thing we can all do, regardless of experience or education, is to be a mentor, and enable those we're mentoring to believe that they can also mentor others. We all have an obligation to share our knowledge and your career is a lifetime. You really get much more out of it by sharing what you know and learning from all of those around you than you ever will by trying to reach the pinnacle."   – Tiffini Lovelace, E4H
"I think the most important thing to keep in mind is to always treat people as individuals. Even though they may be from underrepresented groups in the industry, they are still individuals with their own unique set of experiences and aspirations. That's not to say that you should ignore the greater societal context in which they live, but at the end of the day everyone is an individual and it's important to treat them as that; nobody wants to feel like they are being tokenized."   – Janet Corzo, E4H
"There are a lot of obstacles as a woman in both management and science. Just being a woman in my field, I'm middle to upper management, and I definitely feel the difference. The people I report up to are all male, and I have seen them, instead of asking me a question directly, sort of, go around me to talk to my boss instead of coming directly to me. I would love to see that change."   – Jessica Kay Lang, Consultant