Modernization Case Study: Eastern Maine Medical Center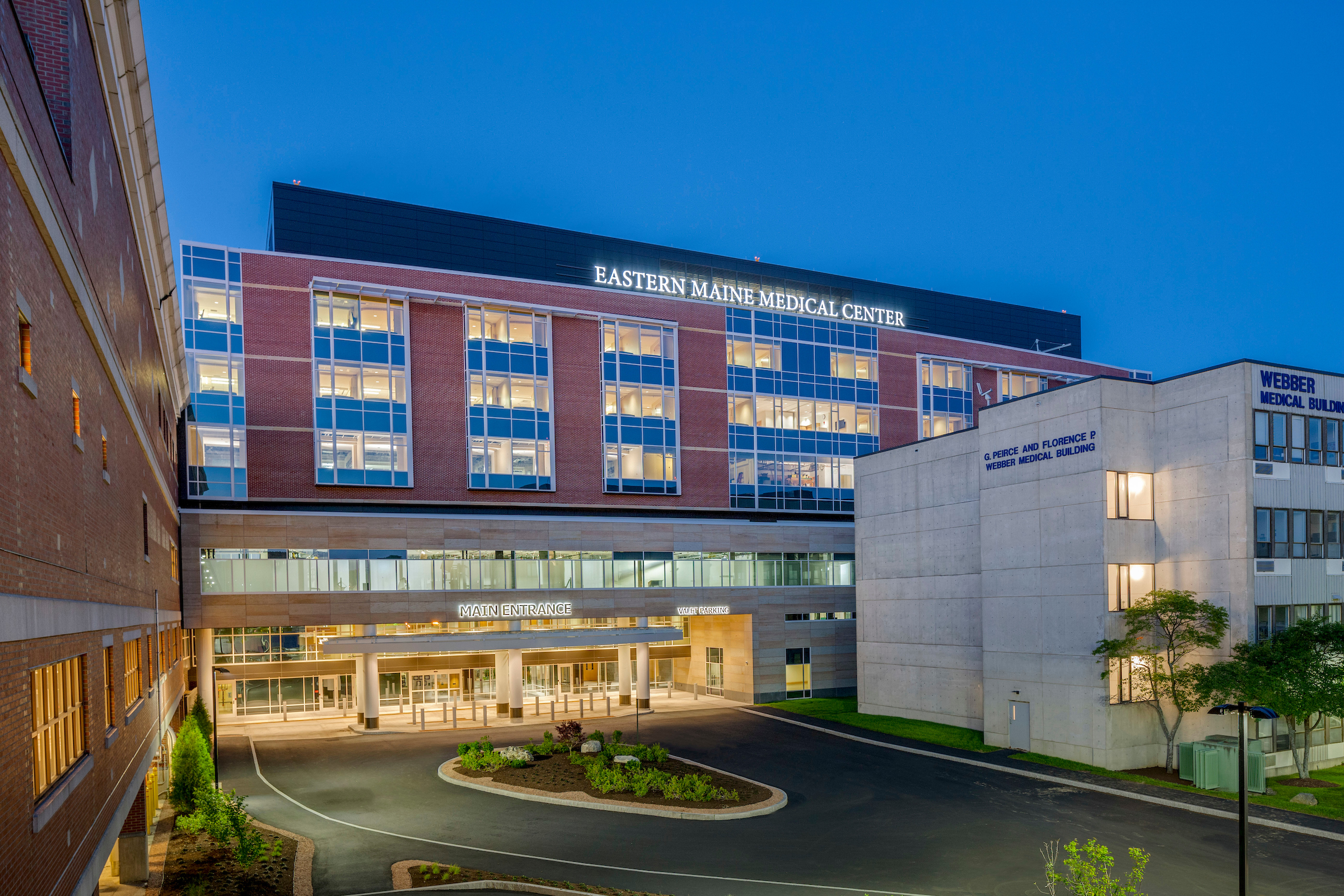 E4H planned, designed and implemented a multi-phased $308M modernization project for Eastern Maine Medical Center (EMMC). The project includes 361,000SF of projects including a new bed tower, state-of-the-art operating rooms, consolidated heart care, updated space for laboring moms and their babies, new neonatal intensive care space, and increased private rooms for patients.
UNIQUE FEATURES/CONSIDERATIONS
Extremely limited footprint: An intricately phased construction process was implemented over the course of three years. Underutilized buildings were removed, adjacent buildings were underpinned, and expansion was vertical above existing facilities next to the project site. The design carefully balanced ideal adjacencies for optimal work flow with the physical constraints of the site and construction/renovation costs.
Simultaneous Development – Integrated Planning: Four distinct design teams were created that worked simultaneously on various departments of the building. The teams would then coalesce at the end of each planning work session to assess any coordination required for the project as a whole. In this way the design work was accomplished more quickly and each individual functional area was given a unique level of individual attention.
Focus on the Nurses: Nurse assist lifts are in every single patient room improving ergonomics, efficiency, and addressing Eastern Maine's aging workforce.
Single Family NICU Rooms: The NICU design consists of private single family rooms with river views. Special features include family rooming-in as well as connecting patient rooms to accommodate multiple-birth siblings.
Intensive User Groups: An intensive user group process included more than 33 interviews with caregivers, patients & families, management, and staff. Live design sessions with related departments were held together to increase interdepartmental collaboration.
Acuity Adaptable Rooms: Each Med/Surg room is designed to be acuity adaptable with the required clearances, HVAC abilities, modular headwalls, patient observation, and nursing ratios to transition to critical care.
Family Respite Areas: Creating peaceful areas of respite for patients and families was a major design driver. The catchment area of the Hospital is very large with patients often driving multiple hours from rural Maine for treatment. Far from home, these respite areas are of increased importance. Large family rooms overlooking the river are on each floor.
The project program includes:
32 Inpatient telemetry rooms
24-Bed critical care unit
29 Single-bassinet neonatal intensive care unit
6 Labor and delivery rooms with 25 postpartum rooms
8 Invasive labs
14 State-of-the-art operating rooms with pre-op and pacu
2 Hybrid ORs
Nuclear medicine
Non-invasive cardiology
Grand lobby
Cafe