Medical Retail Case Study: TrueDerm Brand Identity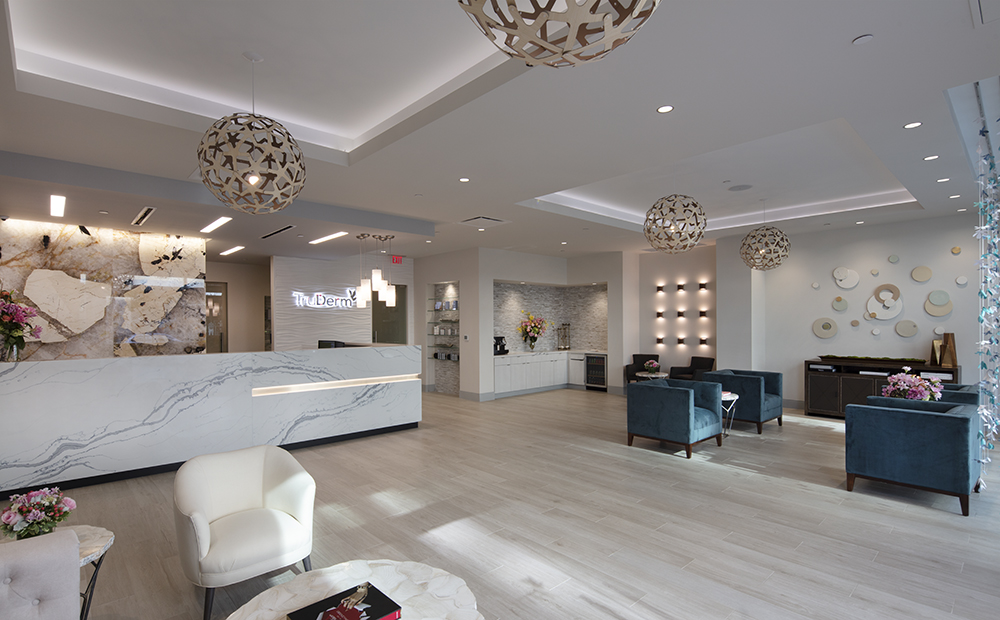 TruDerm has partnered with E4H to open multiple medical retail developments in North Texas. Driven to establish the brand across each location, E4H created a uniform palette which couples whites and cream tones with natural accents in wood and stone for both the exterior facade and interior spaces. These elements combine to create a sleek and stylish healing environment that will set TruDerm apart from other medical retailers.
The architectural palette is augmented by darts of courageous colors, carefully chosen to showcase the stunning artwork and allowing the visitor to appreciate the sophisticated furniture and décor. The lighting is whimsical, used to add another layer of artistic depth. Dynamic fixtures provide more than illumination by casting beautiful shadows on the walls and ceilings delivering more texture and dimension to the space.
Product display was a key consideration for the store's design. Glass shelves were suspended in front of thin opalescent mosaic bans to showcase merchandise. Clever design approaches encourage and motivate customers to select products for purchase.
A focal wall of Polished Patagonia Granite from Brazil works in harmony with the overall motif to highlight the reception desk without overpowering the merchandise displays or artwork. The wall's audacious color variations with large masses of quartz serves to anchor the space. Similarly, Bianco Carrara Marble was utilized in the restrooms to infuse the elegant ambiance throughout.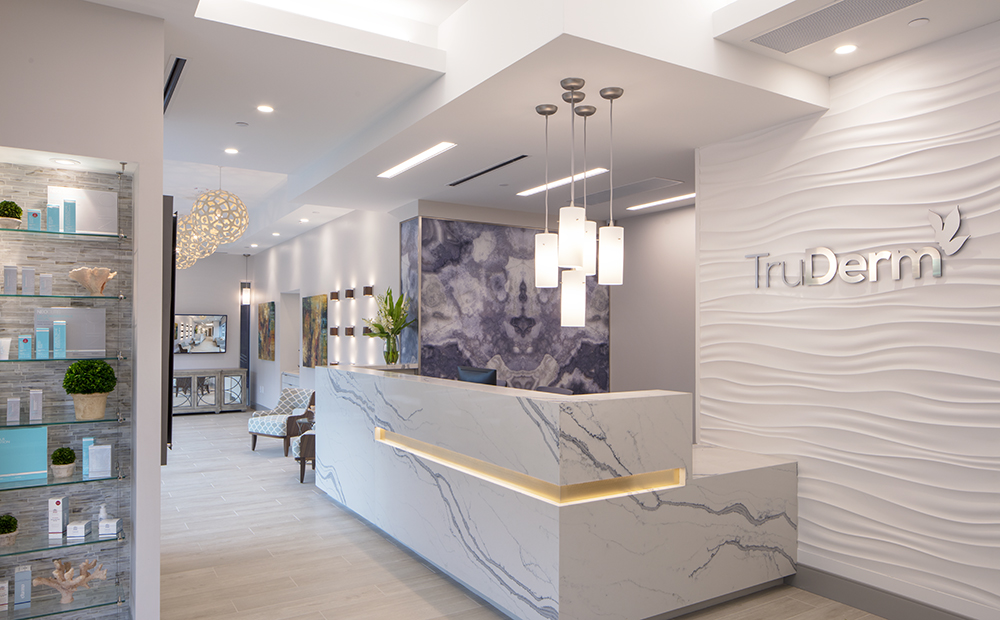 Each treatment room has a white vinyl treatment chair, overhead exam lighting, and sink and work areas. Continuing the design, the treatment rooms are outfitted with dimmable cove lights. Hospitality influences are everywhere including fluffy robes and cashmere blankets to elevate the visitor experience while transporting them to a place of relaxation. These elements of design distinguish TruDerm from competitors and make the TruDerm brand easily repeatable and recognizable in any location nationwide.