Empathy in Architecture: Using Trauma-Informed Design to Promote Healing
posted September 4th, 2020 in Blog
#behavioralhealth #interiors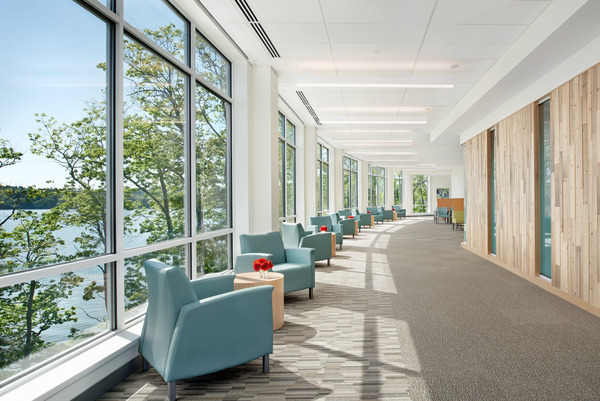 An estimated 70 percent of adults in the United States have experienced a traumatic event at least once in their lives and up to 20 percent of these people will develop post-traumatic stress disorder (PTSD). An estimated 5 percent of Americans – that's more than 13 million people – are struggling with PTSD at any given time.
Trauma can be described as a response to a deeply distressing or disturbing event, whether a single incident or repeated, that overwhelms an individual's ability to cope. Trauma can cause feelings of helplessness, a diminished sense of self, the inability to feel the full range of emotions, and a variety of physical health issues.
The stress of the current COVID-19 pandemic and pain, grief, and indignation arising from continued political unrest and racial tensions, are increasing the number of people experiencing trauma. These situations are creating a collective wave of trauma-related symptoms with an increasing number of people reporting feelings of fear, anxiety, and isolation every day. Now is a good time to revisit our responsibility as healthcare architects and designers to aid healing through intentional, trauma-informed design.
As we move through our daily lives, the built environment we are surrounded by has a profound impact on our emotional, mental, and physical state of being. We've all experienced what can happen inside of ourselves when we step into any given space. Take a moment and imagine how you'd feel standing in a dark, damp basement with low ceilings compared to standing in an open and airy atrium filled with natural elements. Chances are you'll be hanging out in that atrium if given the choice. Our surroundings directly inform our nervous, endocrine, and immune systems. For an individual with PTSD, a poorly designed space can be particularly detrimental to their healing process.
Trauma-informed design incorporates the principles of trauma-informed care: empathy and understanding. It is an effective approach to designing spaces where trauma-experienced individuals may spend time, such as hospitals, Veterans Affairs facilities, behavioral health centers, and social service facilities. The goal of trauma-informed design is to create environments that promote a sense of calm, safety, dignity, empowerment, and well-being for all occupants. These outcomes can be achieved by adapting  spatial layout, thoughtful furniture choices, visual interest, light and color, art, and biophilic design. Each of these concepts is detailed below.
Spatial Layout
Create "spatial availability" with clear sight lines, high ceilings, and minimal barriers. This can increase a person's sense of safety and decrease a perceived sense of crowding or being trapped
An easy to navigate space with consistent and clear signage creates a sense of calm, familiarity, and empowerment
Dedicated spaces for somatic/body therapies such as yoga and meditation rooms
Furniture
Arrangement of furniture needs to be considered for how it affects users' sense of safety, perceived crowdedness, and relationship to staff (e.g., communicative or authoritative). Sitting face-to-face across a desk or table may be perceived as confrontational, whereas sitting corner to corner, without a barrier in-between can invite conversation and trust.
Choose furniture that has elements of softness, comfort, and "cocooning", which can make users feel protected and safe
In waiting or common areas, orient seating so users are facing out from sheltering walls
Always refer to the Principles of Universal Design to promote accessibility
Designated areas that provide a sense of privacy
Visual and Aural Interest
Limit visual complexity, such as distracting wallcoverings or carpeting. This can increase stress and anxiety
Symmetry and soft patterning can create a sense of safety and grounding
Minimize unnecessary and overwhelming ambient noises
Consider playing music that incorporates natural sounds
Light & Color
Ensure adequate lighting that does not buzz or flicker and include controls that can be manipulated for those with light sensitivities and visual impairment
Avoid deeply hued warm colors (red, orange, yellow)
Use cool colors (blue, green, purple) that create a calming effect. Lighter-colored rooms are perceived as more spatially available, and thus safer and more calming
Avoid stark white walls
Windows and natural light wherever possible
Art
Art can create a visual distraction that alleviates stress and improves comfort level
Nature paintings and photography are associated with increased mood and reduction in stress levels
Avoid abstract work with harsh lines and colors
Biophilic Design
Research shows that settings that include vegetation, gardens, and green space reduce stress, pain, increase the rate of healing, promote peace, tranquility, enhanced self-esteem, and a sense of connection to the environment. Research also shows that even just views of nature (whether it be directly, through a window or looking at art), as well as indoor plants, are all associated with an increase in positive mood and comfort.
Plants perform an important biophilic function by not only connecting occupants to the natural world, but may improve air quality as well
Every environment we step into has an impact on our state of being. Using empathy and understanding to create intentionally designed spaces is at the core of what it means to be a designer. Creating from this place of compassion is a profound way to play an important role in the complex journey of healing trauma.
Photo: LincolnHealth Watson Health Center, Damariscotta, ME