E4H Announces New Promotions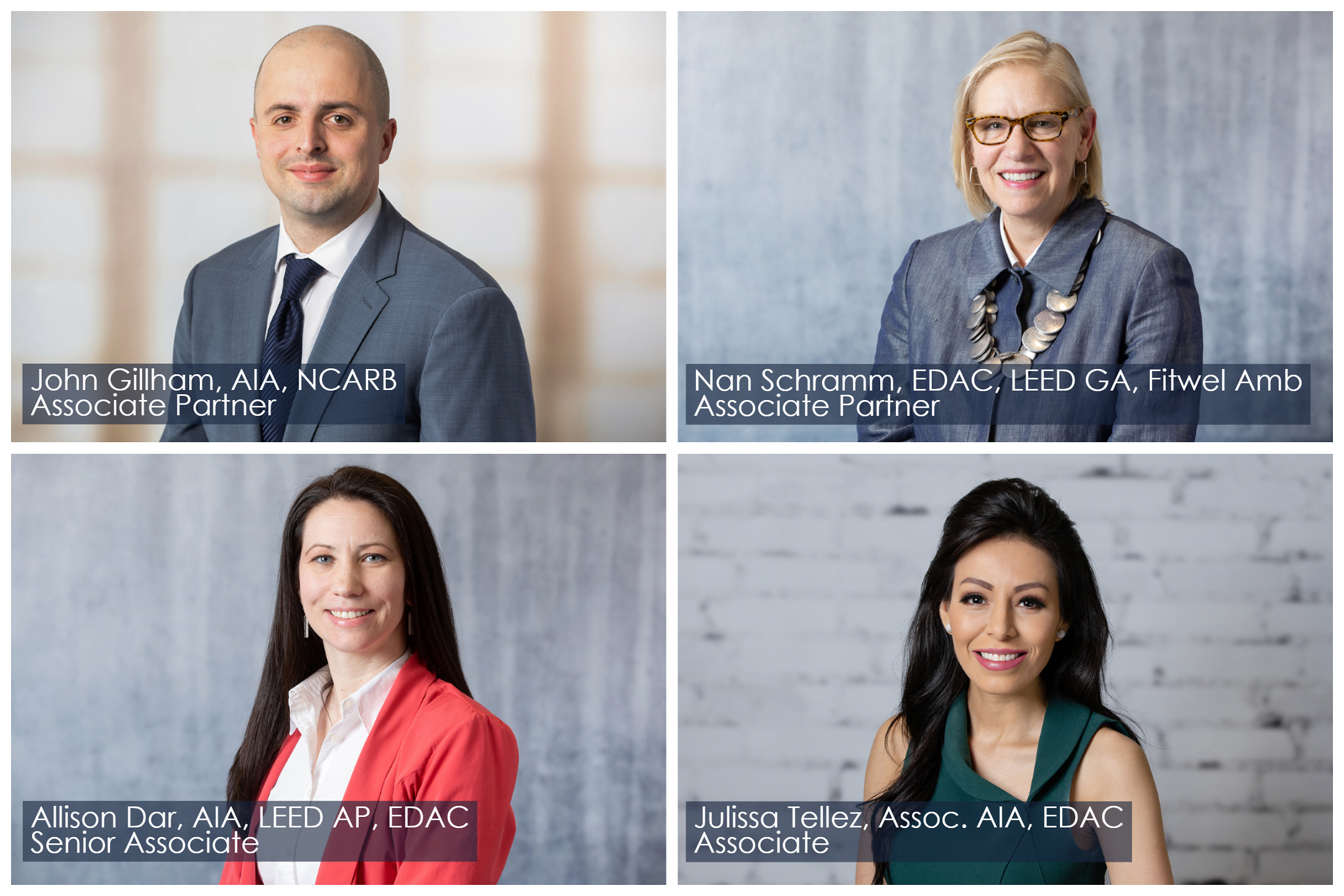 John Gillham, AIA, NCARB, has been promoted to Associate Partner. John leads the NY office's Health Science initiatives and coordinates office staffing and future planning. John brings significant experience in diverse healthcare project types, including clinical laboratories, research laboratories, master planning, offices, and treatment area renovations. Diligent and detailed, John excels at building and maintaining client relations, problem solving complicated renovation and phased projects, and managing multiple teams within the firm. John received his Bachelor of Science in Architecture, Cum Laude, from Washington University, and his Master of Architecture from University of Kansas. He is a licensed Architect and an active member of AIA, NCARB, and NYC Builds Bio+.
Nan Schramm, EDAC, LEED GA, Fitwel Ambassador, has been promoted to Associate Partner. Nan is involved in all Washington DC based projects and is responsible for all phases of experiential design and interior design projects. Her recent work endeavors include several hospital finish standards packages, hematology and oncology, ambulatory care, women's care, patient unit refreshes and medical office building fit-outs. Ms. Schramm graduated from Pratt. She served as the past president of the International Interior Design Association, contributes to the USGBC-National Capital Regions newsletter, is co-chair of the USGBC Women in Green, was awarded USGBC's 2019 Leadership Award, and sits on the Northern Virginia Community College's Interior Design advisory board.
Allison Dar, AIA, LEED AP, EDAC, has been promoted to Senior Associate. Over the years she has enjoyed designing a wide variety of healthcare projects throughout large hospital and outpatient facilities. Within the Washington DC office, she is responsible for the programming, planning, design, coordination, and construction administration of her projects. Allison received her Bachelor of Science in Architecture from Ohio State University, and her Master of Architecture from Catholic University. She currently teaches Healthcare Interior Design at Marymount University.
Julissa Tellez, Associate AIA, EDAC, has been promoted to Associate. Julissa delivers value to every engagement, often starting by helping clients better understand their own needs. Based in Dallas, she is versed in a wide range of projects in the for-profit and not-for-profit sector, including master planning, renovations, additions, community and neighborhood hospitals, greenfield construction, and tenant re-characterization. A driver of business relationships, Julissa is responsible for identifying and realizing new clients. Julissa received her Bachelor of Environmental Design in Architecture from Texas A&M University. She speaks at conferences, and is involved in the healthcare community, including ACHE (American College of Healthcare Executives), Colorado Association of Healthcare Engineers and Directors, and Women in Healthcare.