Continuum of Care Case Study: Maine Behavioral Healthcare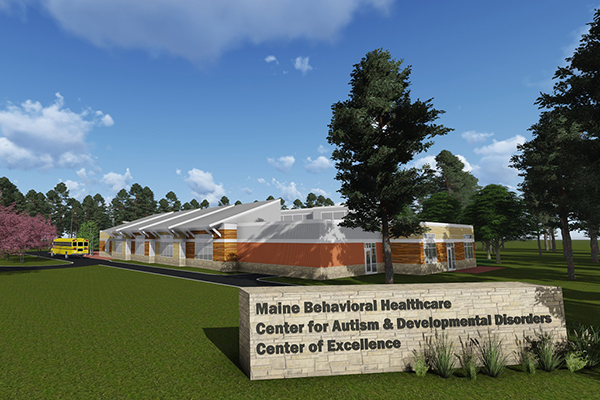 MULTI-DISCIPLINARY & EVIDENCED-BASED CONTINUUM OF CARE
More than 40,000 children and adults in Maine have been diagnosed with autism or a developmental disorder. Through the vision of nationally recognized Matthew Siegel, MD, Vice President for Medical Affairs for the Developmental Disorders Service at Maine Behavioral Healthcare (MBH), E4H has designed a truly unique behavioral health facility for individuals with autism and other developmental disorders. The Center encompasses a multi-disciplinary, evidenced-based continuum of care where families are supported as they help their loved ones achieve their greatest potential.
PILOT PROGRAM TAKES OFF
This new Center of Excellence in Autism and Developmental Disorders (CADD) will transform the existing pilot program into a life-span oriented, full-service integrated treatment, research, and training center to meet the needs of Maine families, generate new treatment models, and advance autism science for the benefit of all.
PRIMARY PROGRAMS INCREASE SIZE
Four times the size of the pilot program, CADD will include three primary programs within its 28,000SF footprint: Child Day Treatment, Child and Adult Outpatient Treatment, and Clinical Research. The eight classrooms will serve children from preschool through high school with state-of-the-art audio/video learning tools, turning the spaces into living laboratories where students can participate in innovative research during their regular activities. Dedicated rooms are designed for developing daily life skills such as food shopping, meal preparation, visiting the doctor or dentist, and getting a haircut. Gross motor skills are supported by two indoor sensory rooms and well-equipped outdoor play yards.
MEETING NEEDS OF POPULATION
The outpatient program will support Maine Behavioral Healthcare's unique, multi-disciplinary approach to therapy, meeting the needs of adults with developmental disorders in Maine – a woefully underserved group. This program will include an Adult Clinic, Adult Intensive Outpatient Program (IOP), and Child IOP services. The Research and Training Program will bolster MBH's strong reputation in autism research, becoming a nationally recognized autism research hub with multiple investigators competing for federal research awards and breaking new ground in divergent areas of inquiry.
DESIGN ELEMENTS ENHANCE SPACES
A biophilic approach to classroom design and large activity spaces maintain a connection with nature through abundant natural light and nature themed products. Interior finishes will provide both excellent acoustic control and low VOC emissions in support of evidence-based research on supportive environments for children and adults with developmental disorders. A high efficiency HVAC system using Variable Refrigerant Flow (VRF) and a Dedicated Outdoor Air System (DOAS) is employed to increase environmental sustainability, improve user experience and reduce annual operating costs.
E4H is proud to support such an innovative and groundbreaking behavioral health program through architecture and design.