US Green Building Council NCR Women in Green: Speaking Up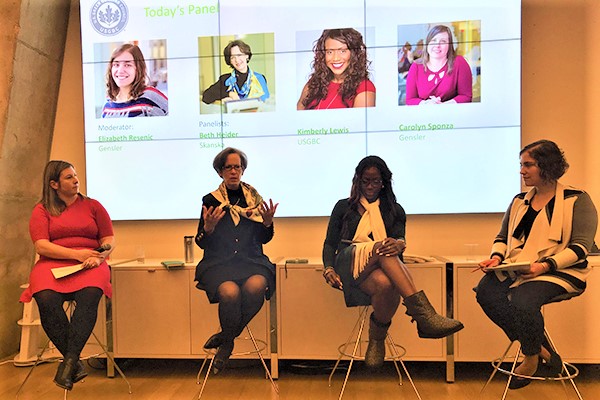 "What is the True Meaning of Courage?"
Courage takes myriad forms in our lives and professions. At the beginning of a recent USGBC Women in Green event, Speaking Up, we were asked what courage meant to each one of us. This inspirational event featured a diverse panel of female USGBC leaders who spoke at length about courage, and various subtopics ranging from goals and failures to helping each other up.
The event also included the opportunity to network with women from various backgrounds. Architects, sustainability leaders, MEP engineers, landscape architecture professionals, and women across multi-disciplinary backgrounds convened as a community to celebrate self, and to remind each other how vital 'a sense of purpose' is to our well-being.
The panel consisted of four women from the Green Building Industry: Moderator Elizabeth Resenic, Sustainability Strategist at Gensler; Beth Heider, Chief Sustainability Officer at Skanska; Kimberly Lewis, Senior Vice President at the US Green Building Council, and Carolyn Sponza from Gensler.
Kimberly Lewis of the USGBC talked energetically about how initial failure propelled her to excel at her job. She stressed the need to lead with a purpose and to have a vision statement for oneself. It is crucial, she added, to have attainable goals and to act on them. She emphasized that 'one should not be stuck in the current state.' The most vital thing is to keep moving despite failures and hurdles, and how failures should only serve to bolster us and push us forward. Kimberly's overall message is that we are responsible for empowering ourselves and seizing every opportunity that comes our way.
Beth Haider underlined the importance of accepting opportunities, regardless of how daunting they may be. Even though it may be a struggle to climb to the ledge and make it across, it is essential to an individual's growth to take that path. She discussed her personal struggles and how getting help from other women along the way helped her balance work and life. "When you raise up in power, bring up the people around you, shine the light on those who helped lift you up. Never let the quiet voices go unnoticed," she advised. Most of the panelists expressed that they had male mentors, highlighting the need for strong female representation in leadership and mentoring roles. Beth argued that this will build a stronger and more diverse team and assist in efficient role delegation when necessary.
As a design leader in her firm, Carolyn Sponza chose not to be swayed by outdated societal norms and selected a project team that consisted primarily of women for an aviation project, a first in the aviation design industry. Carolyn spoke about the importance of taking responsibility for one's failures and not to let that bog one down. Empowering team members, delegating tasks, and mobilizing resources are critical to the success of any project. She noted that it is imperative to build skills and to focus on your strengths more than your weaknesses.
This session underscores the continued need for women's empowerment in the workplace, something that E4H supports through our 4WRD initiative. E4H's goal to promote female leaders within the firm, and supporting thought-provoking conversations about our future roles, are crucial steps towards a brighter and more equitable future.
USGBC National Capital Region's Women in Green Committee has been a pioneer for initiating important discussions on series of key topics. The 2019 theme has been "Fostering a Culture of Courage." This three-part event series has covered 'Authencity, Solidarity, and Diversity', 'Speaking Up' and finally in January, Women in Green will host a high tea and a discussion on "Building Leadership." Photos courtesy of USGBC NCR.