E4H Promotes Emerging Leaders
#e4hpromotions #emergingleaders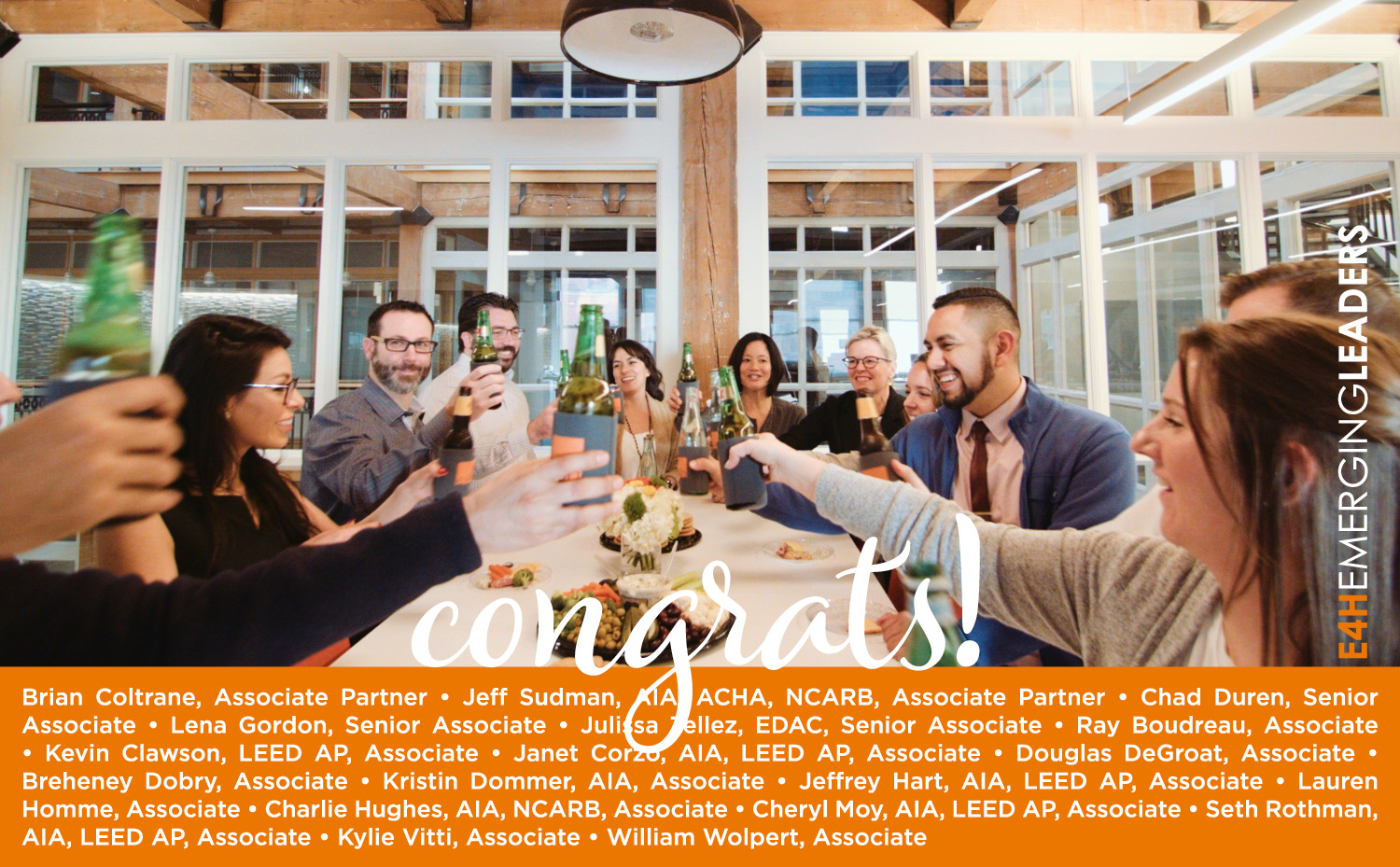 Employees of E4H Environments for Health Architecture have always shown outstanding dedication to the company's mission of improving the health and wellness of patients, staff, and communities. Their extraordinary devotion and commitment to elevating healthcare and health science could not be more evident than in the challenging world we live in today. At E4H we are committed to the growth and development of our employees and are proud to share this recognition of their contributions. E4H has promoted a talented group of emerging leaders across the firm.
Brian Coltrane and Jeff Sudman, AIA, ACHA, NCARB, have been promoted to Associate Partner having shown incredible leadership and knowledge on diverse healthcare projects. Brian Coltrane from the DC regional office brings over 30 years of healthcare design experience, he manages several key mid-Atlantic projects and has been instrumental on the E4H COVID-19 planning and design task force. Jeff Sudman from the Dallas office has 28 years of experience in healthcare architecture, working collaboratively with an interdisciplinary team to achieve evidence-based, research-driven solutions on numerous projects. He is currently managing several ambulatory surgery, prototype medical center, and hospital projects located across the country.
Chris Anglese, LEED AP, Mavis Chang, Chad Duren, Lena Gordon, and Julissa Tellez, Assoc. AIA, EDAC, have all been promoted to Senior Associate. This group of rising leaders has shown excellence and initiative in their fields. Chris Anglese from the Boston office is a collaborative project manager with 17 years of healthcare experience. Mavis Chang from the New York City office is the E4H Controller with 12 years of experience managing complex accounting and project tracking systems. Chad Duren from the Fort Worth office has 25 years of organizational project management and healthcare facility design across a wide variety of project types. Lena Gordon has 14 years of healthcare and health science facility marketing experience and manages E4H's national marketing team. Julissa Tellez has 14 years of experience with healthcare facility planning, operations, and strategy. She co-leads the identification and realization of new projects and drivers of new business relationships nationally.
Additional leadership promotions include:
Ray Boudreau – Associate
Kevin Clawson, LEED AP – Associate
Janet Corzo, AIA, LEED AP – Associate
Douglas DeGroat – Associate
Breheney Dobry, Assoc. AIA – Associate
Kristin Dommer, AIA – Associate
Jeffrey Hart, AIA, LEED AP – Associate
Lauren Homme – Associate
Charlie Hughes, AIA, NCARB – Associate
Cheryl Moy, AIA, LEED AP BD+C – Associate
Seth Rothman, AIA, LEED AP – Associate
Kylie Vitti – Associate
William Wolpert – Associate
Multiple promotions across the firm elevated project managers, architects, designers, and interior designers, human resources, marketing, and IT specialists. Through mentorship, education, and support E4H looks forward to the continued growth of all their employees. Through exceptional healthcare and health science design, E4H employees make a real impact on the accessibility, inclusivity, and quality of environments experienced by patients, staff, and employees.