Ben Lindner Wins ACE Mentor of the Year Award
posted July 21st, 2022 in Culture
#ACEmentorship #awards #e4hfamily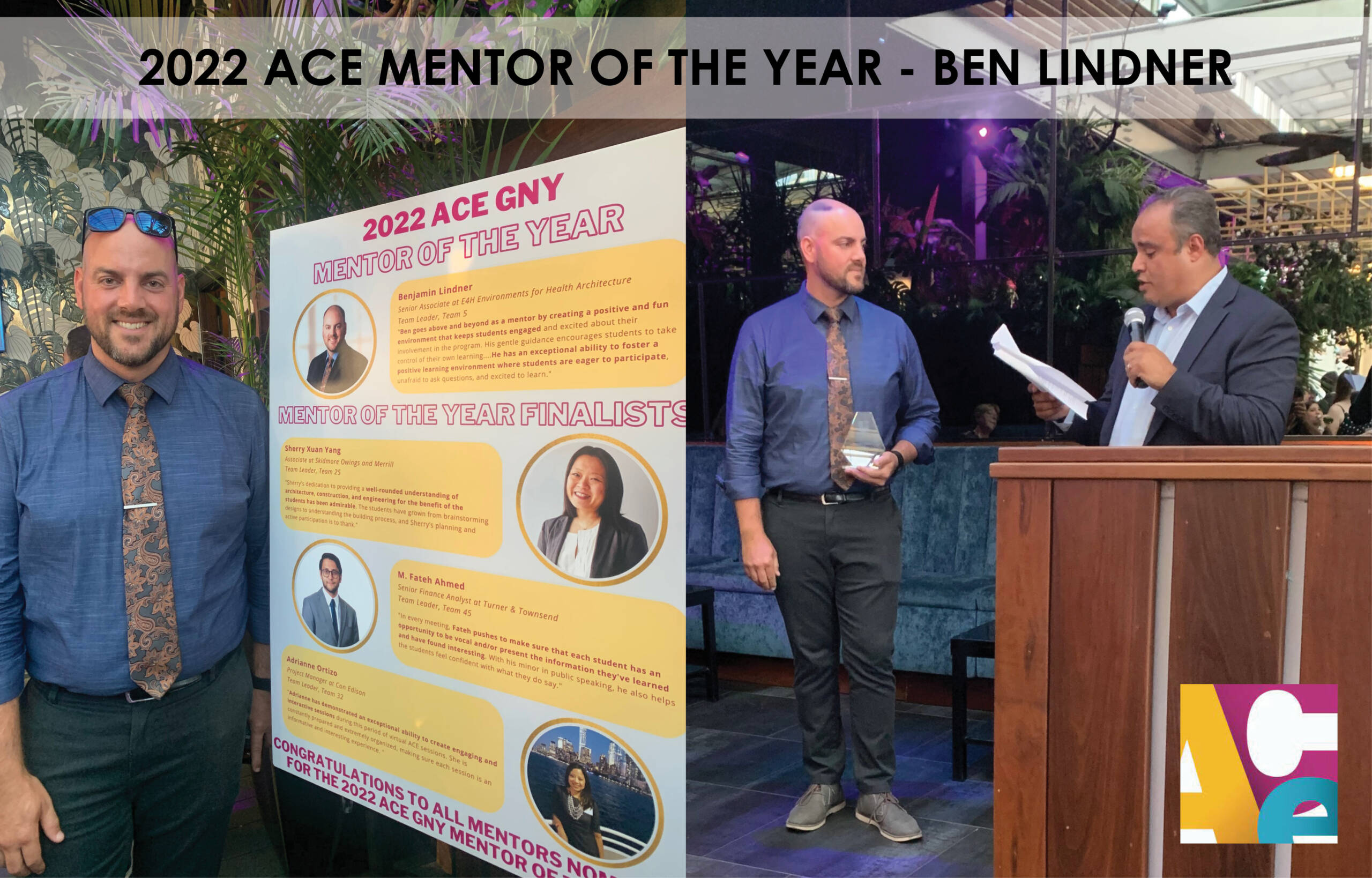 Congratulations to Benjamin Lindner, RA, Senior Associate, for winning the ACE Greater NY 2022 Mentor of the Year. The ACE Mentor Program is a not-for-profit organization that helps prepare high school students for careers in design and construction through mentoring by industry professionals. Ben was nominated by colleague Christopher Bradshaw, RA Senior Associate. Read the award winning nomination and Ben's statement to get a glimpse into this exceptional person who is a positive influence on young design students.
Describe how the nominee positively influences the participants on their team.
Ben Lindner has volunteered as an ACE mentor for approximately 10 years and has served as a Team Leader for the past 7 years. He has an exceptional ability to foster a positive learning environment where students are eager to participate, unafraid to ask questions, and excited to learn. He takes a democratic approach to leadership, empowering students to make decisions for the entire team, and truly take ownership of their learning.
Many students come to the program with preconceived notions about the industry and what they want to do. Ben enjoys showing students the ins and outs of each sector, and seeing their opinions change over the year. Sometimes students come in and realize that this industry is not for them, and Ben still regards that as a success.
He leads by example, sharing his sketches with students to demonstrate that there is no such thing as a wrong drawing. At the beginning of the year, students are too timid to draw a line for fear that it is incorrect. Under Ben's guidance, students learn that its ok to put something on paper without knowing whether it will work. He emphasizes that architecture is an iterative process – there are a thousand right answers, and the key is to collaborate with team members to determine what will work best.
This year, Ben worked with his peers to create an intriguing final project that would build excitement and inspire creativity in the students. The final concept was to design a space station on Mars. He kept the parameters flexible – giving the students more ownership and allowing them to think outside the box.
Describe how the nominee positively influences the participants on their fellow mentors.
As the team leader, Ben is organized, thoughtful, and dedicated to the program. He is diligent about maintaining weekly communications with the other mentors, which creates a sense of camaraderie and respect. His priority is to ensure that students stay on track throughout the year; when a peer mentor can't attend a meeting, Ben is always happy to cover for them. He is constantly pushing the team toward improvement, reviewing lessons learned from previous years, and welcoming new approaches.
When the mentors are generating ideas for the final project, Ben makes sure to hear from everyone on the team. He values everyone's perspective and encourages all mentors to speak up and pitch ideas. He takes a collaborative approach to leadership, seeking opinions of the team before moving forward with a decision. Ben's commitment to the ACE mentoring program inspires everyone on the team. He truly cares about this program, about teaching the next generation, and about making the entire experience a positive one.
Use three words to describe the nominee.
Energetic, Approachable, Dedicated
How has the nominee gone above and beyond as a mentor?
Ben goes above and beyond as a mentor by creating a positive and fun environment that keeps students engaged and excited about their involvement in the program. His gentle guidance encourages students to take control of their own learning.
He wants the students on his team to feel that they are operating in a safe environment where all ideas are welcome. Within this mindset, Ben recognizes and cultivates the strengths of each student. This approach allows students to truly flourish. For example, this year we had a particularly quiet and unengaged student. Ben took time to work with this student more directly on activities and show examples of what other architects had designed. This gave the student more confidence in their own designs. By the end of the year, the student became one of the most active and excited participants. This is one small example of the impact Ben has on all students on his team, year after year. His dedication and enthusiasm are unmatched.
The ACE program typically over-enrolls students in each team because of attrition. But this year was so successful, they had the lowest attrition rate in Ben's entire tenure. I think that speaks to Ben's impact as a mentor more than anything. Ben not only helps to strengthen each individual but his commitment enables to strengthen the foundation for ACE and the AEC industry. He is a truly outstanding mentor and leader, inspiring everyone around him.
Serving as an ACE mentor for nearly 10 years has had a profound impact on my life as an architect, shaping my approach to leadership, and allowing me to give back to my community. Throughout my time in school, I was fortunate to have positive influences that guided my path. Recognizing the impact my mentors had on my career highlighted the importance of being a role model and mentor for the next generation. ACE has given me the opportunity to be that guiding force for students as they grow their skills and discover new passions.
Ben's Statement
As a mentor, I teach students skills they can apply to their careers, as well as intangible life skills that are critical to success, such as public speaking, teamwork, and problem-solving. Being a mentor has helped me improve many of these skills myself.  Being the lead for Team #5 has strengthened my leadership, organizational, and speaking skills. From organizing project milestones a and coordinating design groups, to leading the conversation during classes, I am constantly using and improving these skills, which has undoubtedly contributed to my personal career advancement.
Lastly, ACE allows me to recharge my batteries in the creative process of architecture. Connecting with the next generation of designers gives me a fresh perspective on my "real life" work in the field. It allows me to give back to my community and have some fun with students.  Where else can you design something on Mars, except in ACE?!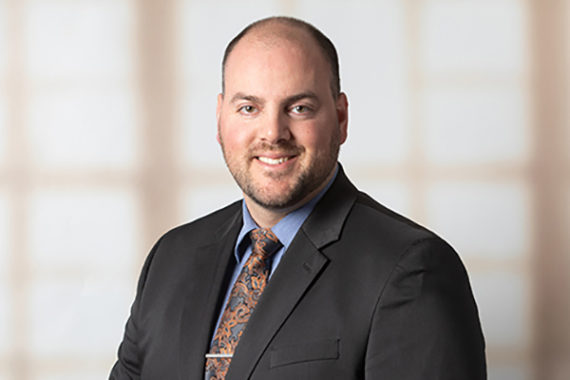 About Benjamin Lindner
RA, Senior Associate