10 Qs: Getting to Know the People Behind the Projects…Thomas
posted April 28th, 2020 in Culture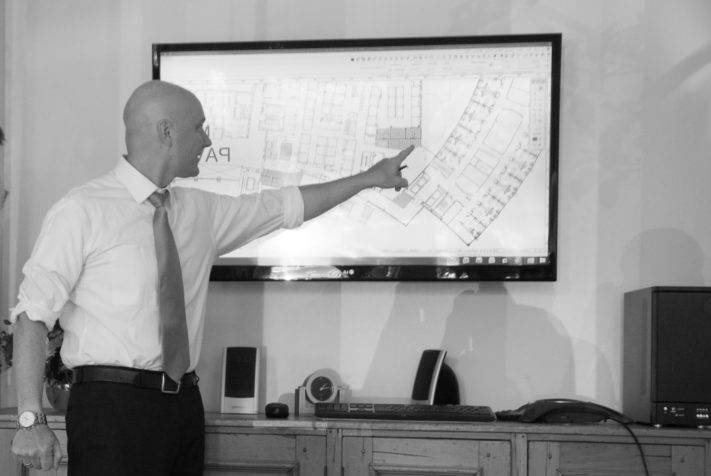 "…to me nothing is more valuable than human health and nothing is more challenging than designing and building the spaces that provide modern care."
Thomas Morris is a Partner in the Vermont office and currently serves on the E4H COVID-19 Task Force.
1. Where did you grow up?
I was born in Charlottesville, VA and grew up in Charleston, WV. I moved to Vermont in 1989 and have lived here ever since.
2. How did you get into design?
I've always had an interest in building and construction. Combined with a good drawing hand – I can remember sketching house designs in the 7th grade. Being able to express yourself and your ideas with a sketch is a valuable tool. I also had a great art teacher around that time and he really expanded my exposure to different kinds of art.
3. Who influenced you?
Early on it was Frank Lloyd Wright. His architecture was available and easy to comprehend. But now my vision of architecture is more influenced by its environment, the never-ending palette of materials, constructability, and the role architecture plays in our lives.
4. Why healthcare architecture?
I guess all architecture has a purpose and a role, with varying opinions on its value. But to me nothing is more valuable than human health and nothing is more challenging than designing and building the spaces that provide modern care.
5. What inspires you?
Knowing that our clients appreciate, respect, and need our expertise. It can't be mandated – we must make it a need. I'm never the smartest person in the room – but I'm constantly inspired to be the most valued, informed, and prepared.
6. What advice can you give young designers?
Learn how things are built and how they go together. Think beyond the architecture because it will be partially influenced by engineering and construction. The sooner you expose yourself to this the more valuable you will be. Also, remember that it's our responsibility to protect the client's interests – but also seeing the CM as a client (not an adversary) has always served me well. Lastly – be a decision-maker. Know the risks and weigh them – but don't be afraid to be decisive. Everyone at the table wants and expects it.
7. What are your most memorable projects?
Mount Mansfield Orthopedic MOB:
The owner appreciated design and good details. The MOB was more similar to high-end residential with many built-ins, extensive millwork, interior borrowed lights, custom lighting, and farmhouse style interior finishes. When appropriate coat racks for the lobby could not be procured – I built them myself.
Cohen Children's Medical Center:
We can all find something special about a children's hospital. This project was a large brand new building from the ground-up that covered Emergency Medicine, ICU, and Med-Surg services. It was high-end, and demanding, with detail orientated contemporary interior and exterior finishes. The team had a great Construction Manager and Owner Project Manager.
UVMMC Miller Inpatient Building:
This project consisted of a 128-bed Med-Surg unit. The building had a curved floor plan which was a blessing and a curse. Constructed over an existing Emergency Department added to the challenge. In addition, we designed a large skybridge from Med-Surg to existing Surgery. A sophisticated, knowledgeable, and experienced Owner kept us all on our toes.
8. What is your favorite part of the design process?
Without a doubt it would be Construction Administration. I love to solve problems, and truly believe that if we have some scope captured, which means some construction dollars, there's no problem we can't solve.
9. Where do you see healthcare design in 5 years?
Fit-bit type devices will constantly monitor a wide range of our health, which will be downloaded directly to our primary care provider. Yearly check-ups or physicals would be web-based appointments. This would be the foundation to all medical care.
10. How do you unplug?
My wife and I have 2 very active kids which keeps us both very busy. When they were born someone told me "you're going to wonder what you used to do with all your free time". I didn't get it then – but I get it now! I love to build and always have a project around the house. I enjoy being outdoors as much as possible – and I find cutting fire wood very therapeutic. I've also been restoring a 1963 International Scout which I hope to have on the road this summer!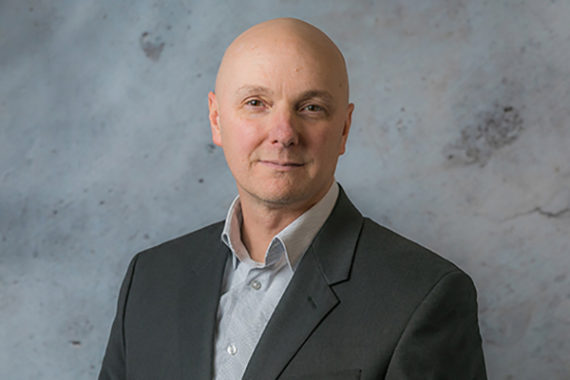 About Thomas Morris
Partner